Improving the Conversion Rate on your hotels website remains a vitally important factor when looking to drive Direct Business to your own Brand website. Improving your conversion rate will improve the ROI of your Digital Marketing campaigns which in turn will help you be more aggressive against the OTA's
We have included our 3 key tips for improving your hotel websites conversion rate below.
1: Optimise the Download Speed on Mobile and Desktop
This is critical and is something we regularly review for clients and perspective clients. Not too long ago the adage here was your site needs to download in 3 seconds or else you will lose peoples interest. Consumers now expect your site to download in 2 seconds or less.
Market leaders Amazon have reported that they increased revenue of 1% for every 100 milliseconds improvement to their site speed. (source: Amazon)
In addition to the Conversion Benefit Download Speed is a ranking factor on Google and Google have recently announced that Mobile Download Speed specifically will be a ranking factor from July 2018 – Read more about this update here
How can I check my Sites Download Speed
There are a number of tools that you can use to check out how your site fares from a Download Speed Perspective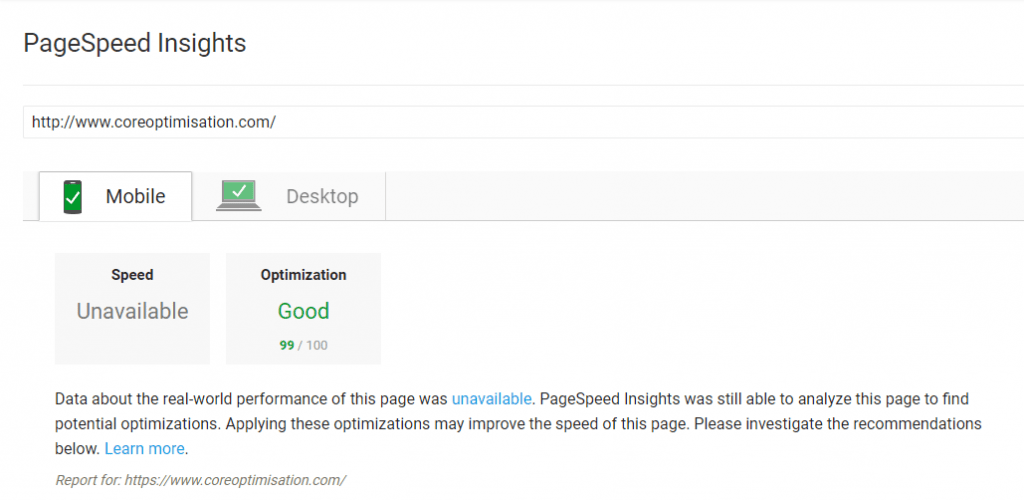 What Can I do to Improve
There are a number of common issues that can affect your download speed. We have included some of these below
Optimise your Imagery – Pingdom will help you identify the sizes of Images on your Site. We would recommend keeping your image file size under 200kb. You can also use compression tools such as Gzip to compress all files
Prioritise Above the Fold Resources – By loading the items that appear above the fold first the user will experience a quicker site load experience.
Remove Unnecessary Third Party Scripts – A large number of hotel sites have old tracking scripts that are no longer in use on their site. Third party scripts can often slow down a site. Removing old or unnecessary scripts can have a positive impact on Download Speed
Browser Caching – This is where the elements on any webpage page you visit are stored on your hard drive in a cache, or temporary storage, so the next time you visit the site the loads quicker
Reduce Server Response Time – Contact your hosting provider to ensure the server your site is hosted on is optimised for download speed.
Minify Resource – Another one for your web design partner. Your html, CSS and JavaScript should all be minimised for optimum performance.
2: Use Data to Understand your Customers and Personalise their Experience
Google Analytics and your reviews on the likes of Tripadvisor, Booking.com and Google my Business provide extremely valuable data on your customers.
Google Analytics, if set up correctly, will tell you vital information such as
Traffic, Revenue and Conversion Rate by Age Category
Traffic, Revenue and Conversion Rate by Location – City or Country
Device Information
Whether your customer is new or returning.
This information can easily be used to optimise your campaigns and landing page experience. For example if you know that 40% of your revenue comes from the US market you can target this market with specific messages – e;g. Your Landing page should contain travel information relevant to this market and attractions / activities that appeal to this market. Longer Stay packages will also perform well here – a good example of this is the Fitzpatrick Castle Hotel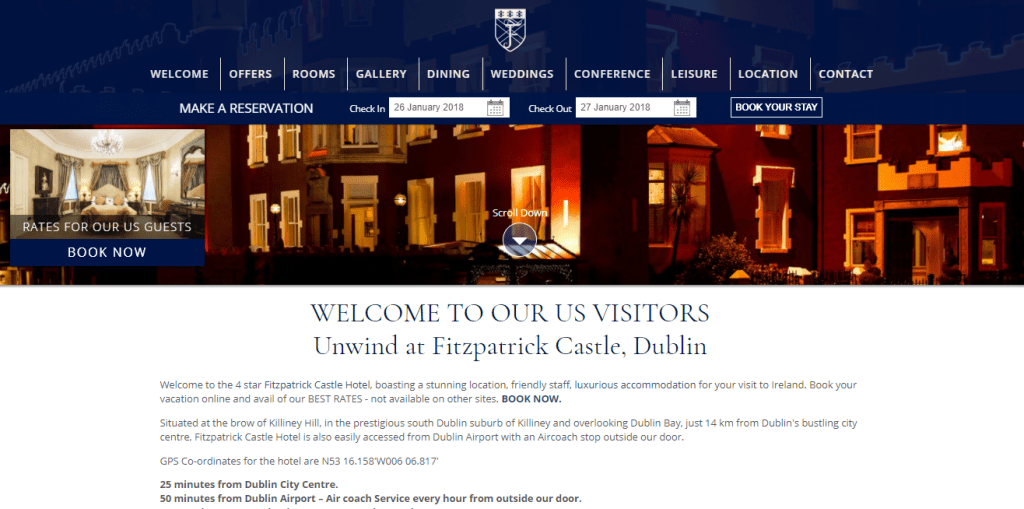 If your two biggest markets are couples and over 55's you can update your adwords campaign so they view different ad copy and are landed on different landing pages – with Special Offers and Activity Recommendations that are specific to this market.
Also adding reviews that are relevant to the market you are targeting or audience you are talking to can also be a big help from a conversion perspective. I have included an example below from the Citywest Hotel who have a Dublin Zoo package which includes a review from a customer who booked this package previously.

3: Add Book Direct Incentives
Most hotels would like to drive more bookings directly through their own site – rather than through higher costing OTA channels. However not every hotel has a strategy to drive this.
There are some tactics that are in wide use such as
Best Rate Guarantee Messages
No Booking Fee
Free Cancellation
Price Comparison Widget from Triptease
This items are useful for showing that the hotel has incentives and pricing similar to the OTA's but they do not provide a compelling reason to make the switch from the OTA's to the Hotels Brand Website.
In order to see significant growth a more cohesive strategy is required. Our data has shown that customer will react positively to incentives.
The Click on Clayton campaign by Clayton Hotels is a good example of how to build loyalty. Any customer can sign up to the Click on Clayton programme and get €10 or £1o off their booking on Claytons Brand Website.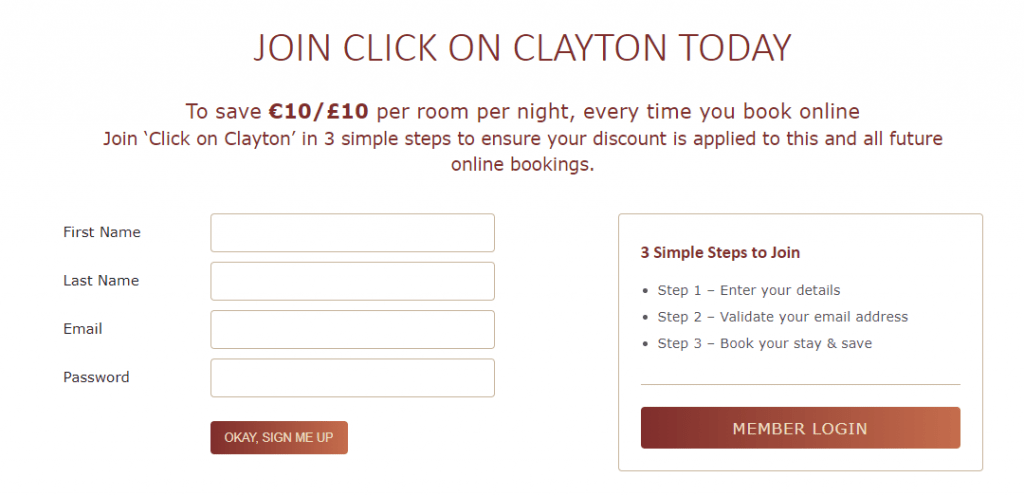 However the Incentive does not always need to be price. Other examples that work well include a discount on F&B once a customer is onsite. One example we like is Crieff Hydro which is a large family resort in Scotland. They offer Free Childcare if you book direct