On October 10th, Dublin Tech Summit hosted the second annual Women in Tech awards at the RDS Dublin. The Women in Tech awards highlight the importance of diversity in the workplace, focus on narrowing the gender gap and also recognise the achievements of women working to drive IT excellence, innovation, leadership and success in the tech industry. This year the audience consisted of over 400 high-level execs, VIP's & government officials. The event contained 14 different categories and 2 special recognition awards including the Female Entrepreneur of the Year Award.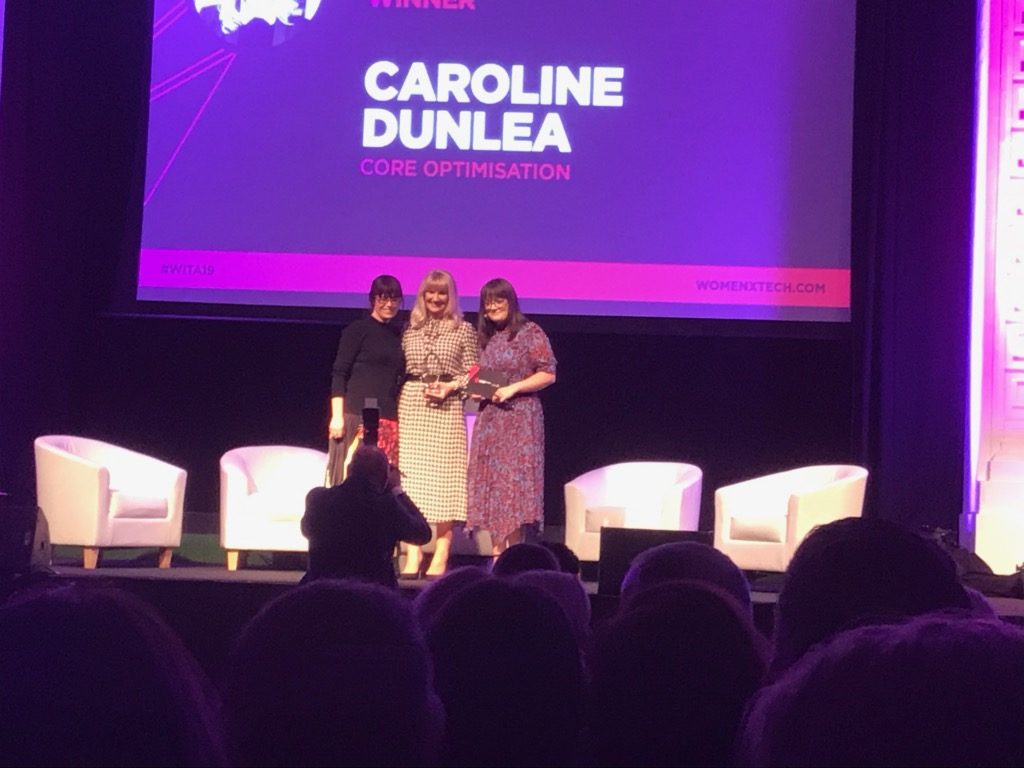 Caroline Dunlea was named Entrepreneur of the Year at the prestigious awards. We are a 4-year-old Independent Digital Marketing Agency which has been listed as a finalist in the Google Premier Partner awards for the last 2 years running. This means that Core Optimisation is recognised as being in the top 5% of Google Partner agencies in EMEA. Caroline won the award in a tough category beating some of Ireland's biggest female entrepreneurs to take home the award, here's what she had to say about this achievement:
"I am very honoured to have received the Entrepreneur Award and it means so much to me as a business owner and also represents the dedication and commitment of an entire team's drive for success. What an incredible event with so many amazing and inspirational women across so many sectors. Thank you to Dublin Tech Summit for organizing such a memorable evening"
Currently we handle digital marketing for over 70 clients in Ireland and the UK, including Compu b, Meaghers Pharmacies, The K Club, The Dean and Devlin hotels, Expert Electrical and the Cliffs of Moher visitor centre.
In the UK, Core's clients include Eurochange's 160 branches, NM Money, and five-star boutique hotels such as The Arch London and St James's Hotel & Club in Mayfair.
As a performance-based digital marketing agency, we develops strategies for clients to increase their online presence and drive online revenue. It uses paid search advertising, search engine optimisation (SEO), social advertising and conversion optimisation to grow revenue for businesses.
Core's rapid growth over the last four years growth thanks to Caroline's vision, innovation, passion, and ability to navigate a dynamic business environment made her a worthy winner of the Entrepreneur of the Year award at the Women in Tech awards last Thursday night.