Facebook is expanding its e-commerce capabilities by making it possible for businesses to sell products directly on their Facebook and Instagram page.
"As many businesses are creating and strengthening their digital presence, we're building new tools to help make online shopping seamless. That's why we're launching Facebook Shops…"
Facebook Shops
Facebook Shops is completely free to use and it's designed out of the box as a mobile first experience whether your creating a shop or buying products! When setting up a Facebook Shop, businesses can choose which items to feature and highlight collections of products in individual sections while brands can also customise shops to a certain extent so it will feel like shopping on the Facebook Marketplace.
Shops are also discover-able through a companies Facebook and Instagram page but they can also be found through stories and ads
Facebook Shops make it easy for businesses to set up a single online store for customers to access on both Facebook and Instagram. Creating a Facebook Shop is free and simple. Businesses can choose the products they want to feature from their catalog and then customize the look and feel of their shop with a cover image and accent colors that showcase their brand. This means any seller, no matter their size or budget, can bring their business online and connect with customers wherever and whenever it's convenient for them.
Finally, just like when you're in a physical store and need to ask someone for help, in Facebook Shops you'll be able to message a business through WhatsApp, Messenger or Instagram Direct to ask questions, get support, track deliveries and more.
Instagram Shops & Live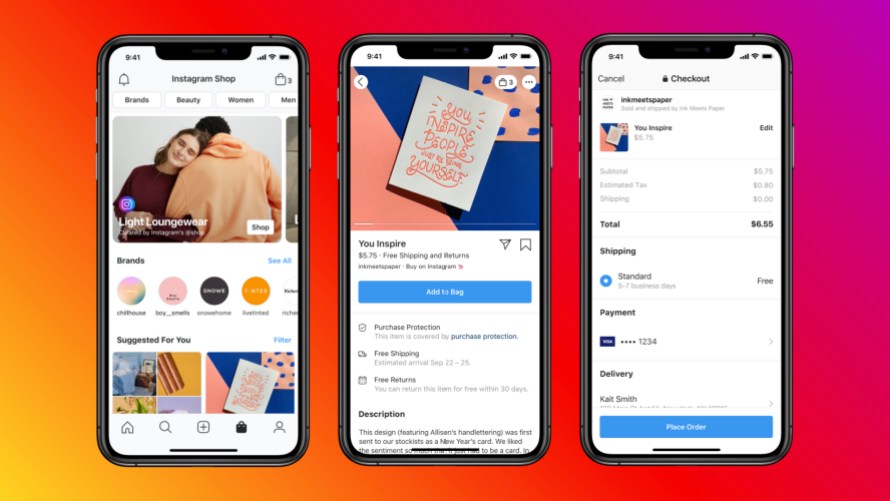 In the same vein as Facebook Shops, the Instagram Shop is also a new way for people to discover and purchase products without ever having to leave the app. The Instagram shop is going to be discover-able through the Explore are where you can then browse products from your favorite brands or category and then purchase directly through the app! Sadly this won't be available for Irish users straight away with trials having begun in the US we should see a rollout internationally over the coming weeks and months.
Also later in the year we will see the a dedicated 'Shop' tab in the navigation bar which will make it even easier to find businesses' online stores and they are also working on ways for goods to be sold in real-time through Facebook and Instagram live.
"People have been using live video on our apps to showcase products for years… Now, we're making it easier to shop for products in real time."
Pages can tag products from their Facebook Shop before they go live which will be shown at the bottom of the video throughout the broadcast. This means that people tuning into the live stream can tap on the products to learn more about them and make a purchase. But we will have to wait as live shopping is currently in the testing stages with businesses on Facebook and Instagram.
E-commerce Partners
Facebook are working closely with a number of e-commerce partners to deliver this online shopping experience to give small business all the support they need during these times to help them build and grow their shops on Facebook and Instagram.
Facebook's e-commerce partners include:
Shopify
BigCommerce
WooCommerce
Channel Advisor
CedCommerce
Cafe24
Tienda Nube
Feedonomics
Are you looking for a social advertising agency? to help you with your Facebook and Instagram ad campaigns? Contact Core Optimisation today.