As you would expect the current global pandemic has had a wide reaching effect on all business big and small, this naturally has had a knock on effect for marketing across the board but for the purpose of this article, your social media performance and strategy. There is an overall trend showing a lower demand for Facebook's paid adverts, however while the world is at home, social media channels are showing record usage. Being on top of your organic social media is a key focus right now but if you do have a small budget to spend now is an opportune moment to strike as a result of the lower cost of Facebook advertising. But before we jump into the details, it's worth noting that in the short term your ads may not generate conversions as people try to prioritise their personal finances, but this doesn't mean you shouldn't be advertising.
People's attention is on social media
While we already know that the Facebook ecosystem is an absolute behemoth, the numbers above just go to show the sheer volume of users that are now at home and scrolling through their feeds with little else to do. Normal activities are out of the question and if you think about it on a personal level, are you spending more time on your phone than usual? Don't believe me if you're and android user check your own usage:
Go to Settings 

Battery

Tap the 3-dot menu, and go to Battery usage.

Tap the 3 dot menu again, and choose Show full device usage
And for iOS
Open up the Settings app.

Scroll down to the "Screen Time" section that's grouped with Notifications, Sounds, and Do Not Disturb.

Tap on "Screen Time" to see your usage statistics
This in turn means that impressions and reach are higher than usual and in turn the capacity for your ads to reach your target audience is equally on the rise meaning a lower cost for your reach campaigns. Just to put into context the increase in social media usage right now here's the numbers:
Instagram – usage up 45%

Snapchat – usage up 42%

WhatsApp – usage increasing throughout situation up 42% overall

Facebook – usage up 37%

Facebook Messenger – up 50%

Include Facebook Messenger, Instagram and WhatsApp combined.

Group Calls are up 70%

Stories – avg posting 6.1 per day up 15% week over week

Stories' impressions, meaning views, also increased by 21% during that time.
Who else is advertising right now?
Sure we all understand right now things can't be considered business as usual and therefore the natural reaction for any business trying to save money is to turn off their marketing efforts. Of course as a marketing company we are going to say this isn't the ideal move right now but trust me with so many businesses putting the breaks on the advertising spend means you should where you can afford to keep your social advertising running during the crisis.
Think from a selfish standpoint, your competition is most likely out of the running right now and that shared customer base is low hanging fruit that can be obtained at a minimal spend in comparison to usual. A double win here is the fact that with competition for the same audience lower than usual you're more likely to see your cost per click drop with overall reach and impressions increasing.
In a recent report it was noted that Facebook are predicting ad revenue will decrease by approximately 19% in 2020, that's an approximate value of $15billion, meaning that the competition on the platform for your auction is going to be reduced. 
Advertising at a low cost
As most would expect, the worldwide pandemic has had an effect on brands' social media strategy and performance. This can be seen in a variety of areas, including a lower demand for paid ads on Facebook, the increased performance of organic content and if you do have some budget to spend, keep the ads running to see an increase in reach because of the lower costs of ads on Facebook. Here are some numbers to put this in focus:
Cost per click is down on average 15% (industry specific)

Click through rate has declined approx 17% (less people looking to spend right now)

Overall spend down 23%

12.7% drop in CPM month over month 

Digital attention at an all time high

Brand awareness advertising is a low-cost objective

Geared towards generating as many impressions as possible among

Over 75% of shoppers are leaving without completing their purchase. With increased browsing, now is a good time to re-engage with previous website visitors and get them back to your site with an incentive like 'free shipping,' and special promos.
Despite traffic and reach being greatly up across social media right now, it's important to note that due to uncertainty, financial fear and prioritisation that conversions are way down, once again showing that right now is the time to focus on brand awareness and traffic campaigns in a look now buy later approach. 
Leveraging Reach or Brand Awareness campaigns you can look after the top end of your sales funnel and generate a high volume of impressions. This type of ad is set to generate a higher rate of ad recall and right now while conversions are going to be down or you need to scale back budgets, this is the route to take. To put into context the conversion drop for ads right now we can see only food, healthcare, pharma and media are seeing increased conversions and everything else is way down and understandably so right now.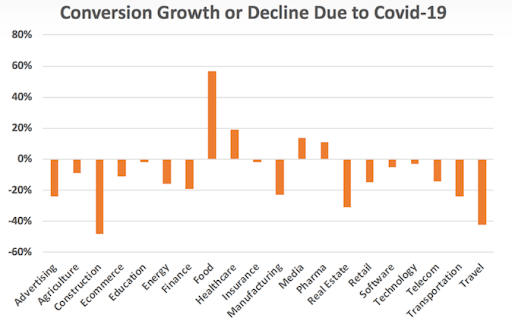 Take a longer term approach to winning business
Here's the tricky bit….while there are some key corporate reasons for keeping your ads running, perception is going to be key at a time like this. Now is not the time for the hard sell. As is commonly known keyboard warriors will look for any reason to go to town on a company. That's why for the time being it's important to change your messaging to be more considerate, focused and for want of a better explanation "fluffy". Taking a longer term approach can save a lot of heartache and in the short term has the potential to provide you with customers admiration, trust and importantly, loyalty. 
There are a number of different guises this can take and you knowing your business and client better than anyone will be well placed to take a back step and think how can you offer potential clients value. It can be done through discounts, home delivery, future savings or freebies or temporarily granting premium access on a complimentary basis. While these acts won't make you money right now, people don't forget who and what was done for them in a time of crisis.
Prioritise your Organic
With usage at an all time high, reach and impressions growing and bidding being cheaper, now is the opportune moment to take the time, flesh out an organic social strategy and get out there across all your social media channels. It's important to note that while people are focusing their finances elsewhere now is not the time for the hard sell, but to focus on the brand, your USP's and any and all community work done by your business at this time.
If this is new to you and your organisation, planning and preparation is going to be key as Moving into a regular posting schedule, planning, structure and efficiency will become more important. Using a social media scheduling tool, you can preset time slots for content across each channel while also scheduling 2-3 weeks in advance. Here are three options for us to choose between, for more information please click the links below:
It is also worth noting that each platform has it's best times and days to post, currently this isn't an exact science as people's usage is higher than the norm but you're understanding of your own followers and when they will be online is a good place to start. Otherwise there is some traditional best practice you can follow:
Facebook

Best times to post is between 1pm and 4pm (Facebook users tend to scroll on desktop during the workday)

Saturdays and Sundays are the biggest days for engagement

Monday and Wednesdays are typically considered the lowest traffic days

LinkedIn

10am – 11am best times to post

Weekends and after work tend to be the best times to post

Monday and Friday are traditionally the lowest reach days

Twitter

12-1pm lunch breaks for quick updates

Weekends are the low traffic times

Instagram

11am – 1pm and 7pm – 9pm and will be mobile users

Wednesday and Monday traditionally have the highest engagement rates

Sunday is considered the low reach day 
Our Recommendations
Use Brand Awareness and Traffic campaigns in place of conversion based campaigns to promote the brand and ad recall for later conversions 

Split approach between ads and boosted organic posts

Keep content posting frequent

Adapt your services to the current situation

Market your solutions with COVID-19 in mind

Ensure your services will still be relevant later

Identify the challenges to your business

Leverage organic posts and showcase company is a positive

Communicate any business changes

While social media usage is at an all time high, now is the time to get a message out to your customers while taking the opportunity to re-look at how you promote your business across all social media channels
We hope that this article gives you some insight as to what is the current state of play on social media, the opportunities that are available and maybe some ideas of how you can be creative and use this time to show your business on whatever channel you prefer.