Irish shoppers have embraced Black Friday and Cyber Monday and are eager participators in the traditional American shopping bonanza. One-fifth of survey respondents confirmed that they will make some form of purchase on Black Friday and Cyber Monday, while a further 37% are considering it. Nowadays Black Friday & Cyber Monday are two of the biggest online shopping days in Ireland and while many businesses' have been planning their sales since last month, many more are yet to realise the potential revenue that can be generated in one day.
In years gone by the Irish market would have scoffed at the idea of the Black Friday sales as being something very "American" however times have changed and now both the UK and Irish customers expect value and discounts to part with their well-earned cash. U.S. eCommerce revenue set a record of $3.34 billion on Black Friday – a substantial 21.6% year-over-year growth rate. Remember if your business is not participating in Black Friday then your competition probably is, guess where they are likely to go for value? With that in mind, we have decided to pull together our top ten tips for a successful Black Friday.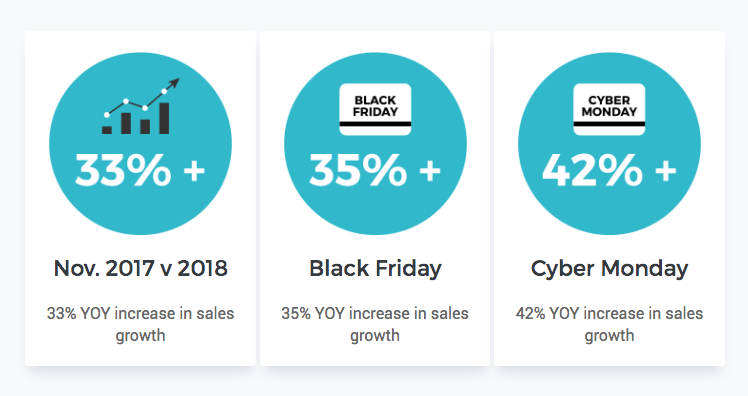 Image Source: IRP Commerce
Use A Dedicated Landing Page
For people to be able to purchase your products, first they have to find it. Make sure you showcase your best selling and promoted products on a dedicated Black Friday landing page. This will help narrow a viewers focus on your highlighted items. Add to this by increasing a sense of urgency using a banner to make it perfectly clear to potential customers that these deals are for a limited time only. Have a timer counting down to when Free Shipping will be over on Black Friday or when prices may drop again! This creates a bit of excitement and hype for customers involved in the sale and captures their full focus until the sale is over.
Now that you have your call to action and your landing page together all you then need is to ensure that your site speed is optimal. 40% of visitors will leave the website if the loading process takes more than 3 seconds so always remember your deals might be the best but if your site isn't optimised customers will not hang around.
Be Social
Social Advertising is becoming more important than ever before. 80% of all Internet users possess a Facebook Account equating to an enormous 1.85 Billion people ranging in age from 13 to over 65 years old. Create a buzz on social media and leverage your advertising to make sure people know about all the great things you are offering, while driving customers to your dedicated landing page.
It's important to ensure you have implemented the Facebook Pixel and that it's fully operational. Facebook Pixel tracks where your existing customers are going to be in terms of social media and allows you to get new visitors into your funnel through retargeting them with Facebooks Ads. All Facebooks Ads also run on Instagram since their acquisition in 2012 so be where your audience will be!
There was a study done in 2015 that showed there were 3.8 million social posts mentioning Black Friday and Cyber Monday sales. This has only increased in the years since.  Your social media posts should vary before, during, and even after Black Friday or Cyber Monday to boost sales. Remember to always put a clear instruction on what is next to do for your customers like "Visit our site", "Book Now" or "Check our deals".
Promotional Offers
The best part about Black Friday & Cyber Monday is the fact that people are highly motivated to buy, however, you still need to implement a sales plan to really drive results. There are a number of ways to do Black Friday deals, just because one company is offering 30% off, doesn't mean that you have to. Why not consider offering special online-only discounts to drive traffic or incentive customers on a particular day with daily deals. There are hundreds of way to create the right deal for your customers, after a quick look online here are some of the most popular we've seen outside of the standard price reduction:
Buy 1 Get 1 Free
Buy 3 Get 2 Free
Buy 3 Get the cheapest item Free
Spend X and Get Y Off
Free Gift with every purchase
2 for the price of 1
Essentially you know your customers better than anyone so promotions of coupons, free gift wrapping, bonus giveaways, discounted delivery, or anything else that you can think of to excite shoppers and generate interest.
Create a Remarketing Audience
Ensure your targeting strategy is right and create a remarketing audience. Your Remarketing Audience is the people that have previously visited your site so have shown an interest in your product or service. You can then start remarketing to this audience with your Black Friday promotions as these are the visitors who are most likely to make a purchase from you. There is just one thing to note, during this period customers are being bombarded with discounts from all angles and not everyone is going to buy something on that day. Think about keeping some retargeting strategies in place after the period so you can follow up with people who never made it to checkout as they are likely to complete a purchase at another time.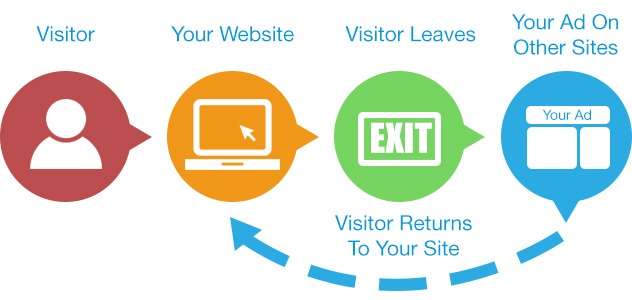 Image Source: Wordstream
Mobile Ready
Mobile is important, just think about it how much of your personal browsing are you doing on your smartphone vs a desktop or tablet? Well, approximately 57% of people browse the internet on their phone. With this many people viewing websites and making purchases off their handheld devices it's more important than ever to ensure your pages are optimised for the smaller screen. Being mobile optimised means your pages the site will reformat itself completely for different devices and will improve the overall customer experience. Also, a mobile optimised site is guaranteed to have a much better mobile web performance, make sure you're not leaving revenue behind and ensure visitors who are accessing your site from mobile devices have an optimal experience.
Mobile devices accounted for 67% of all digital traffic on Black Friday 2018, up from 61% the previous year.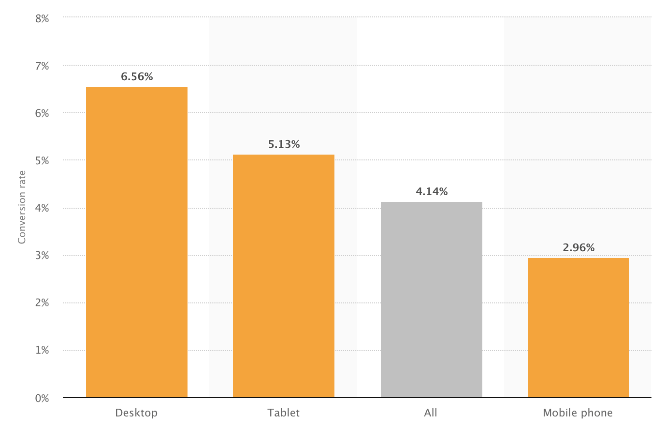 Image Source: Statista
Tracking Success
Have you already implemented Google Analytics and heatmaps from sites like Hotjar? If the answer is no then now is the time to get on board. Using these tools will give you the chance to gather customer insights and monitor your site's performance. Armed with these insights you'll be much better prepared for next years sales.
If your business already has these analytics tools in place, have a look back at the data from previous years. From this data, you can then tweak your site based on these insights and optimise how your holiday traffic behaves.
Which of your products were most popular? Were most of your visits from email marketing, or did visitors find your site organically? Google Shopping, Social Media or something else?
Take this information, tweak your site and modify your holiday marketing strategy using the data to ensure continuous improvement.
Consistency is Key
Being consistent is important! On each of your online touchpoints your message, imagery, promotions and approach should be consistent. Make sure you are promoting your Black Friday and Cyber Monday deals to improve engagement and of course revenue. Here are the main touchpoints for you to remember:
Email
Website
Print Media
Facebook
Instagram
Twitter
Pinterest
Google Shopping
Display Advertising
Personalise your content
Are you personalising the consumer experience or just have a standard procedure in place? Sending tailored, personalised marketing messages to the right people at the right time will increase your odds of conversions and sales as well as returned visits. Stats have shown that as much as 63% of shoppers expect their purchase history to guide personalized experiences from brands. So how do you personalise the experience?
Offer different deals to different customer groups (new customers, loyalty customers etc)
Deal based on previous shopping history
Reco-engine to use showcase what other customers bought in addition to the product the
Bid Adjustments
Increase your budgets and your bids on Paid Search Activity for Black Friday. As well as this, have bid adjustments in place your highest selling and highest margin products to get the greatest Cost Per Acquisition. Black Friday is a highly anticipated event in everyone's Christmas Shopping Calendars so it's crucial to be fully optimised.
Channel your inner Santa Claus
You know make a list, check it twice. This time of year can get hectic and things can fall through the cracks, it happens. When you're competing for a customers attention it's important to make sure everything is on the money. Double, triple and even quadruple check your website, emails, ads, landing pages and anything else and be safe in the knowledge that every one of your promo codes and links is working properly. Also, make sure that your links are being tracked in Google Analytics and that your pixels are in place and operational.
Even with all of this prep work, sometimes things happen so having a back-up plan in place is no bad thing. Designate who will be your businesses elf ready to jump in and fix any broken links and update deals in the case of a mishap. Being ready to pounce to replace a deal means you're less likely to miss out on the Black Friday madness!
BlackFriday.com predicts that 2019 Black Friday online spending will surpass $12 billion this year. Of the shoppers they surveyed, 61% plan to do most of their holiday shopping online. There you have it, you're now ready for sales season with our 10 Top Tips to take on Black Friday & Cyber Monday! Remember customers will be shopping at this time of the year so why not with you. We hope these tips help you see an increase in your sales and this is going to be a success for your business going into the Christmas Season.
Need a hand with your company's seasonal marketing? Get in touch and let's discuss how we can help.