It's the Week of Black Friday Week and we thought what's better to do than to give our Top Tips for a successful Black Friday 2018. Now we know some businesses will have been talking all things Black Friday since November 1st, with talks coming earlier and earlier each year, but this week it's Game On for Black Friday! Thanksgiving and Black Friday shopping online ballooned to $7.9 billion in 2017, a whopping 17.9% year-over-year increase in the US alone with their being no tell tale signs that this will stop.
What once was looked upon as 'an American thing' in Ireland has now become the norm here, with customers expecting value and the biggest discounts imaginable on Black Friday. Businesses that are not providing value to their customers will have their customers go elsewhere in search for the best valued item. According to research carried out by McKinsey & Company there are significantly higher numbers of consumers now taking advantage of Black Friday Sales with the UK jumping from 19% in 2015 to 54% in 2017. So how is it you can make sure you are getting the most from this spectacular and get your share on these search terms?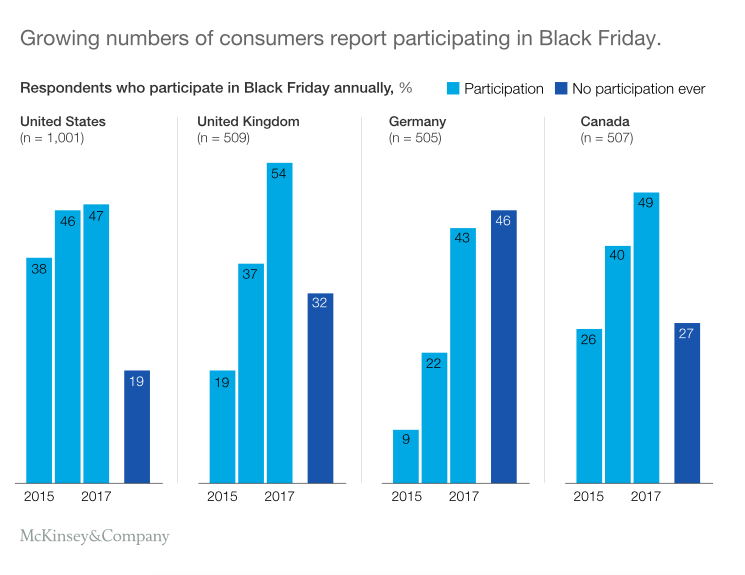 Image Source: McKinsey&Company
Here are our Top Tips to help you along your way…
Consider Different Ways To Discount
Just because one retailer is doing 40% off everything, isn't to say that they're no other way to go on sale. Buy 1 get 1 free. Buy 3 get 2 free. Spend over €X and get €Y off. Free gift with every purchase. 2 for the price of 1! There's hundreds of ways to create the perfect discount for your customers so be sure to hit them with the right one.
Make Sure Your Facebook Pixel Is In Place
Make sure your Facebook Pixel is in place and working! Facebook Pixel tracks where your existing customers are going to be in terms of social media and  allows you to get new visitors into your funnel through retargeting them with Facebooks Ads. All Facebooks Ads also run on Instagram since their acquisition in 2012 so be where your audience will be!
Create a Remarketing Audience.
Create a Remarketing Audience and ensure your retargeting strategy is right. Your Remarketing Audience are the people that have previously visited your site so have shown an interest in your product or service. Remarketing to this audience with a Black Friday offer will have visitors more inclined to make a purchase from you. However, with discounts coming left, right and centre at all of these customers, not everyone is going to buy something that very day. Keep some retargeting strategies in place so you can follow up with people who never checked out online so that they may complete a purchase at another time.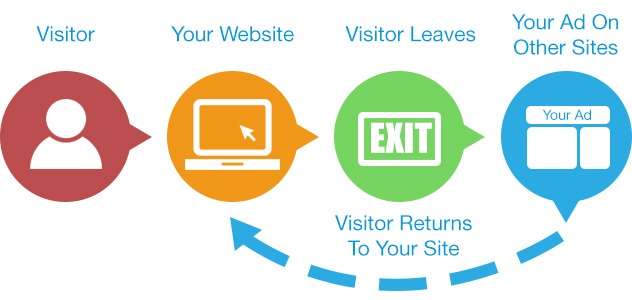 Image Source: Wordstream
Be Consistent.
Make sure you are promoting your Black Friday (and Cyber Monday) Offers on all of your platforms, be that your Website Homepage, Facebook Page, Instagram Page, Pinterest Page, Twitter Page and so on. Engage! Engage! Engage!
Personalise Your Content.
Are you personalising the consumer experience or just having a standard procedure in place? Sending tailored, personalised marketing messages to the right people at the right time will increase your odds of conversions and sales as well as returned visits.
Make Use Of Landing Pages.
Make use of a Black Friday Landing Page in order to narrow viewers focus on a few selected discounted items. Use a banner or counter to highlight and make it clear that inventory is dropping and they need to buy now to secure the deal! Ensure your site speed is optimal as panicked customers urgently wanting to check out will not wait.
Bid Adjustments.
Increase your budgets and your bids on Paid Search Activity for Black Friday. As well as this, have bid adjustments in place your your highest selling and highest margin products to get the greatest Cost Per Acquisition. Black Friday is a highly anticipated event in everyone's Christmas Shopping Calendars so it's crucial to be fully optimised.
Create Urgency!
Have a timer counting down to when Free Shipping will be over on Black Friday or when prices may drop again! This creates a bit of excitement and hype for customers involved in the sale and captures their full focus until the sale is over.
So there you have it! Those are our Top Tips going into this Black Friday Madness! We hope you see an increase in sales and that this is a huge success for your business ahead of Christmas. Always remember, customers are going to purchase somewhere so why not with you.